Poor Hands (Booker & Cash #3) came out last weekend. Initial feedback is encouraging. I'm sure I'm no different to any other writer in that I care what readers think of what I produce. I particularly care what my regular readers think of what I write, especially when it's in a series. Part of the reason for this blog post is to offer my sincere thanks to all readers, old and new, who have downloaded a copy of Poor Hands. And if you've gone on to read and enjoy it all the better. And if you've then left a review on Amazon thank you again. At the risk of sounding like a broken record, it's my opinion that writers are nothing without readers.
I'd also like to offer my thanks to a raft of book bloggers who took part in the book's blog tour, organised by Bloodhound Books. Thank you for your time, trouble, kind words and mentions through your social media reaches.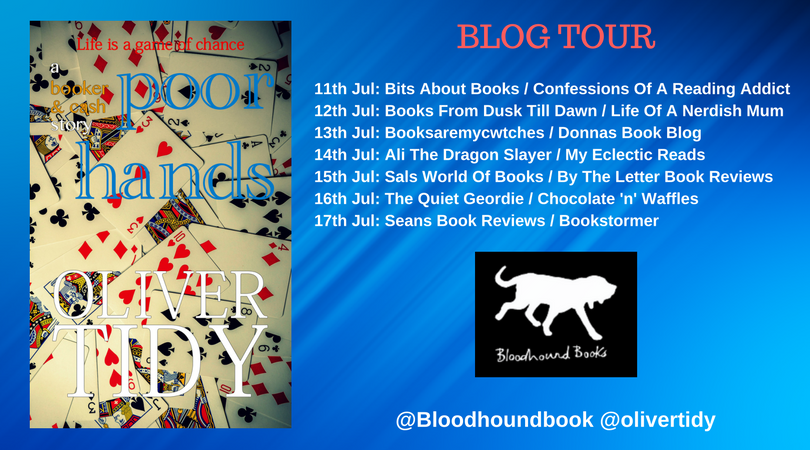 These guys regularly and tirelessly help to promote new writing, often from lesser known authors like myself. Their social media sites are well worth checking out.
https://www.bitsaboutbooks.net/poor-hands-oliver-tidy/
https://readingconfessionsblog.wordpress.com/2017/07/11/poor-hands-by-oliver-tidy/
https://booksfromdusktilldawn.blog/2017/07/12/poor-hands-by-oliver-tidy-a-booker-cash-story-blog-tour-olivertidy-bloodhoundbook/
http://lifeofanerdishmum.blogspot.co.uk/2017/07/poor-hands-by-oliver-tidy-extract.html
https://booksaremycwtches.wordpress.com/2017/07/13/blog-tour-review-poor-hands-by-oliver-tidy/
https://donnasbookblog.wordpress.com/2017/07/13/my-review-of-poor-hands-by-oliver-tidy/
https://cancersuckscouk.ipage.com/blogtour-review-poor-hands-by-oliver-tidy-bloodhoundbook-olivertidy/
https://myeclecticreads.wordpress.com/2017/07/14/blog-tour-poor-hands-by-oliver-tidy/
http://www.salsworldofbooks.co.uk/blog-tour-poor-hands-oliver-tidy/
https://bytheletterbookreviews.com/2017/07/15/poor-hands-by-oliver-tidy-blogtour/
https://thequietgeordie.wordpress.com/2017/07/16/blog-tour-poor-hands-by-oliver-tidy-review-olivertidy-bloodhoundbook-sarahhardy681/
https://chocolatenwaffles.com/2017/07/16/poor-hands-by-oliver-tidy-olivertidy-bloodhoundbook-blogtour/
I've been back home on Romney Marsh for a little over a month. I haven't written anything new because I've taken on a house renovation project. That is taking up all my days and leaving me too tired to do anything remotely thoughtful or creative in the evenings. I can't see it being sorted anytime soon. I've also bought myself a big telly and subscribed to Netflix, which together are proving something of a distraction. It's too easy to spend my downtime vegging out on the sofa.
I'm taking a day off from all that today. I'm trying out my new writer's space – The Stable. (A garden shed was good enough for Roald Dahl, George Bernard Shaw and many other famous writers to work in.)
Some of you may remember seeing photos of this under construction last summer. I couldn't have made it without my little helper.
I'm sitting in it now. It has a good 'feel'. It's quiet – peaceful. There is birdsong, and fresh air and light. Every now and again the little trains on the Romney, Hythe and Dymchurch railway can be heard chuffing along the tracks not far away and the breeze is carrying the smell of the engines' burning coal in through the open window. I am comfortable here. Time to make time for writing again.
First up is a  book I managed to finish in its first draft before I left Turkey. It's called The Fallen Agent. It's not in one of my series. It's another story that was suggested to me from an episode of Spooks. (This one is a full-length novel.) I'll be easing myself back into my writer's groove with a read-through and an edit. After that I intend to crack on with Booker & Cash #4. I always feel closer to those two and their unfolding journey when I'm back on The Marsh.